3 Home Improvement DIY Ideas
Putting sweat equity into your home by completing do-it-yourself projects not only adds value to your home, but can also provide a weekend's worth of entertainment. No matter what project you decide to take on, making sure to have the right tools on hand helps you finish projects quickly, and ensures they're high quality.
DIY Shade Canopy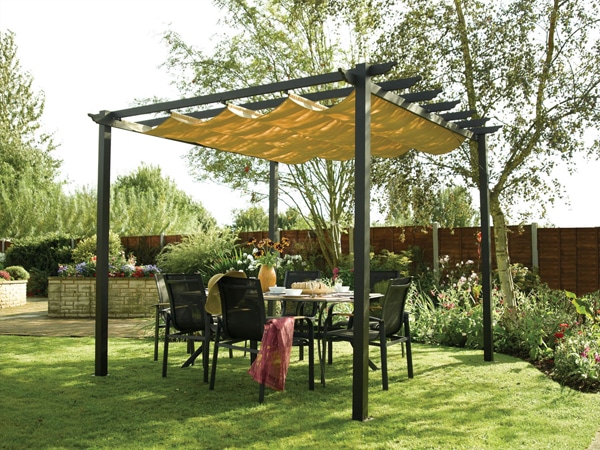 Enhance your backyard living space with a canopy that creates shade. To complete this project, measure the area you would like the canopy to cover, and mark the corners with stakes. Dig holes in each corner that will hold wooden support posts. You will want to set each post in the ground at a depth of roughly one-third of the post's total length. So if your post is 15 feet tall, bury the first five feet in the soil. Set the post in concrete to keep it in place. Next, use a portable saw to cut two-by-six beams so they're long enough to run from post to post. Connect the tops of the posts by nailing two-by-six beams into them, making a square in the sky. Then, add more beams as needed across the top of the structure to support a shade canopy. Adding decorative lights or plants can add a finished touch to your outdoor living space.
DIY Garden Arch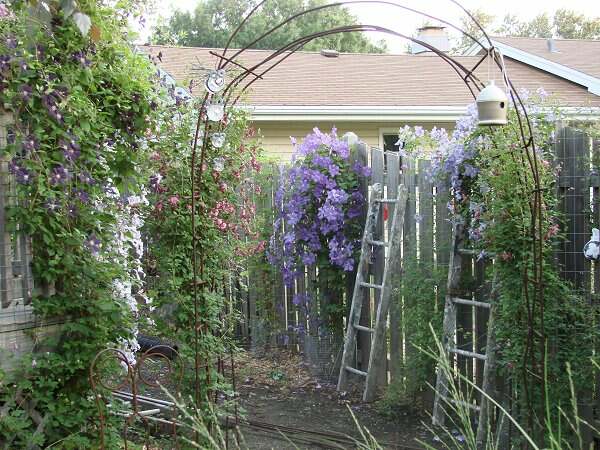 Add visual interest to your backyard or garden with an arch made out of rebar. This dramatic piece can be covered with plants, which, once fully grown, will hide the rebar. To create the arch, take two, 1/2-inch, 20-foot-long pieces of rebar, and using rebar benders, bend each piece into an arch. Drive each end of the rebar several inches into the ground, with each arch parallel to the other, with about one foot of space in between. Then, cut 3/8-inch rebar into 4-foot-long pieces with a portable rebar cutter. Using rebar benders, bend the pieces into circles. Attach the circles to the arches with copper wire. Don't worry if your arch isn't perfect. Slight imperfections add to its beauty.
DIY Padded Headboard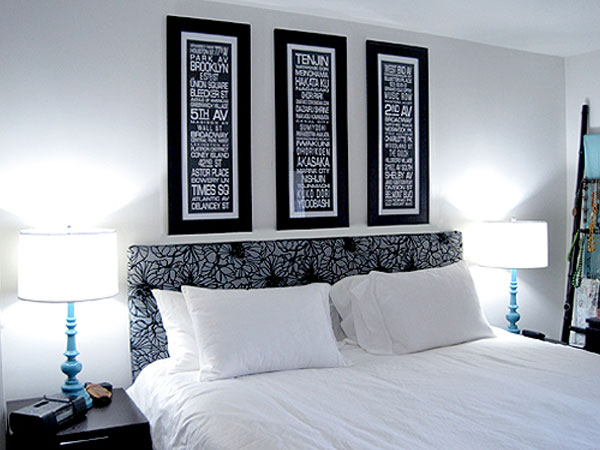 Make your bedroom pop by creating a padded headboard. Headboards can by costly, and making your own luxurious version can save you money while allowing you to express your creativity. To make this project, start with a piece of plywood the same width as your bed, and about 50 inches high. Next, cut beams of white pine with a portable saw to frame the plywood. Lay the beams along the edges of the plywood, nailing them into place every six inches with a hammer and nails. Then, cut a memory foam topper to fit inside the beams, on top of the plywood. Cover the plywood with spray-on adhesive, and then press the foam topper into the adhesive, on top of the plywood. Allow to dry. Select the fabric you wish to cover your headboard with, making sure to measure so that the fabric wraps around the front and onto the back. Place the wooden headboard face down onto the fabric. Pull the fabric onto the back of the plywood, stretching it taught. With a staple gun, staple the fabric into the plywood. Voila, you have a beautiful new, customized headboard. Check out these headboard design examples from HGTV.
Did any of these DIY projects inspire you to take on your own home project? Would you like to share your favorite DIY project with us? Leave us a comment!
Featured images:
License: Image author owned
License: Image author owned
License: Image author owned
Today's guest post is by Mel Kientz of BNProducts, a part time magician, part time blogger and respected influencer in the construction and concrete industry.