What is
Home Automation

?

Simply put, home automation is an advanced system to manage your home and make it more accessible.

You'll never need to arm your system, because it automatically arms when you drive to work, and disarms when you return. At the touch of a button, you'll have complete control over your lights and appliances, from the coffeemaker to the washing machine.
Go Mobile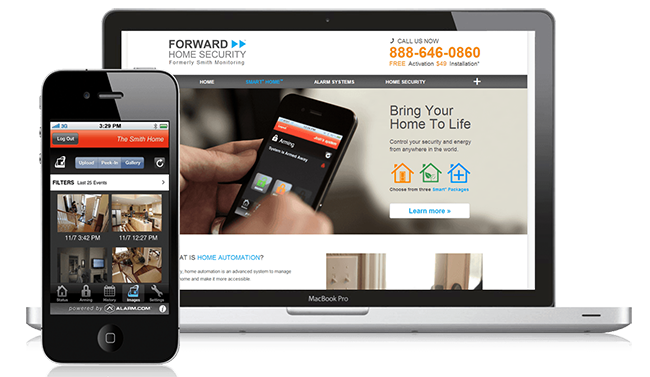 With the SMART+ HOME® mobile app, powered by Alarm.com, you can arm or disarm your security with just a swipe of a screen.
You'll be able to remotely monitor and control your entire system: lights, appliances, even the garage door and thermostat!
Surveillance
Who says you can't be in two places at once? With SMART+ HOME® Surveillance, you'll know what's happening at home while you're in the office.
With a sleek, modern design, SMART+ HOME® cameras will keep you in the know and in the now, no matter where you are.
Thermostat
That's right, you can control your thermostat and HVAC system via web or smartphone! Set rules and actions that start whenever you want them to, with emPower technology from Alarm.com. Enjoy up to $30 savings a month!
Your thermostat won't just be programmable, it'll be interactive!
Tablets

Get a SMART+ HOME® system that's as on-the-go as you are.
Close your garage door with your phone, use your tablet to watch the kids arrive safely from school, or view recent home activity on your computer.
Staying connected has never been so easy. Available on multiple devices, including the iPad and Kindle Fire.



Applications provided in partnership with alarm.com.